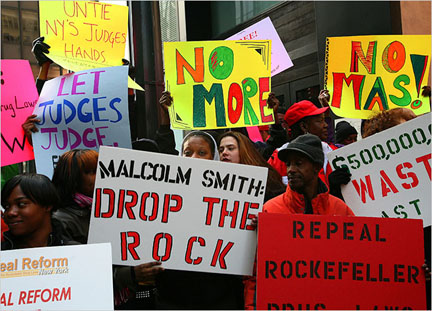 G. Paul Burnett/The New York Times
ALBANY — Gov. David A. Paterson and New York legislative leaders have reached an agreement to dismantle much of what remains of the state's strict 1970s-era drug laws, once among the toughest in the nation.

The deal would repeal many of the mandatory minimum prison sentences now in place for lower-level drug felons, giving judges the authority to send first-time nonviolent offenders to treatment instead of prison.

The plan would also expand drug treatment programs and widen the reach of drug courts at a cost of at least $50 million.

New York's drug sentencing laws, imposed during a heroin epidemic that was devastating urban areas nearly four decades ago, helped spur a nationwide trend toward mandatory sentences in drug crimes. But as many other states moved to roll back the mandatory minimum sentences in recent years, New York kept its laws on the books, leaving prosecutors with the sole discretion of whether offenders could be sent to treatment.
Read the rest of the NYTimes Article by By JEREMY W. PETERS.
What are the Rockefeller Drug Laws?
Enacted in 1973 under Governor Nelson Rockefeller, the Rockefeller Drug Laws mandate extremely harsh mandatory minimum prison terms for the possession or sale of relatively small amounts of drugs. Supposedly intended to target major dealers (kingpins), most of the people incarcerated under these laws are convicted of low-level, nonviolent offenses, and many of them have no prior criminal records. As of 2008, approximately 14,000 people are locked up for drug offenses in New York State prisons, representing nearly 38% of the prison population and costing New Yorkers hundreds of millions of dollars every year.
– from http://www.drugpolicy.org/statebystate/newyork/rockefellerd/