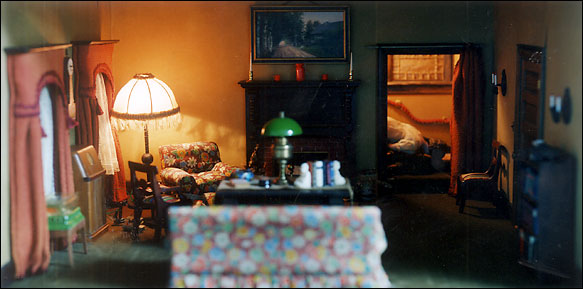 My father told me about this book when we were in the Strand this weekend. I read the first 1/2 the night I bought it, and finished it the next day. Not only does it have wonderful photography, but it combines my strange interest in true crime and miniatures.
—
FRANCES GLESSNER LEE, a Chicago heiress, provided for just about every creature comfort when she fashioned 19 dollhouse rooms during the 1940's. She stocked the larders with canned goods and placed half-peeled potatoes by the kitchen sink. Over a crib she pasted pink striped wallpaper.
But you might not want your dolls to live there.
Miniature corpses — bitten, hanged, shot, stabbed and poisoned — are slumped everywhere. The furnishings show signs of struggles and dissolute lives; liquor bottles and chairs have been overturned; ashtrays overflow.
Mrs. Lee, a volunteer police officer with an honorary captain's rank whose father was a founder of the International Harvester Company, used her ghoulish scenes to teach police recruits the art of observation.
She called her miniatures the Nutshell Studies of Unexplained Death, after a saying she had heard from detectives: "Convict the guilty, clear the innocent, and find the truth in a nutshell."